Our Love for the World
Sunday, February 14, 2-4pm ET
A Spiral offered by Judith Waldman
This event is full, and registration is closed.
You are invited to join us on Valentine's Day. We will experience our Gratitude for this dear world, as well as our Pain for the world. We will See with New Eyes, and move toward Going Forth. Through this time of feeling and sharing we will connect with ourselves, with each other, and with the world.
Judith is a longtime workshop/retreat leader, has been a national trainer for workshop facilitation, and served on the Interhelp Council for many years. She authored the book "STAND tall like the tree, FLOW like the river, SHINE like the sun: Caring for the Woman within."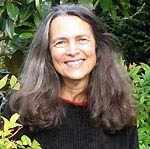 My joys are nurturing and empowering others, using our inherent wisdom for finding peace within, protecting and preserving open space, and rectifying the wrongs of injustice. I look forward to our time together.